Forward Fashion (International) Holdings Company Limited principally engages in the retail of fashion apparel of international brands ranging from established designer label brands, popular global brands to up-and-coming brands through our multi-brand and multi-store business model in Greater China.
The

Gr

oup operates over

200 retail stores

in Mainland China, Macau, Hong Kong and Taiwan.

The Group's brand portfolio of the Group

has over 100 brands,

including international brands and self-owned brands.

The Group ranked first among apparel distributors in Macau in terms of retail sales value in 2018 with a market share of approximately 4.3%

.
Mono-brand stores operated by the Group include

The own brands of the Group include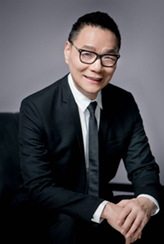 Patrick Fan
Chairman and Executive Director