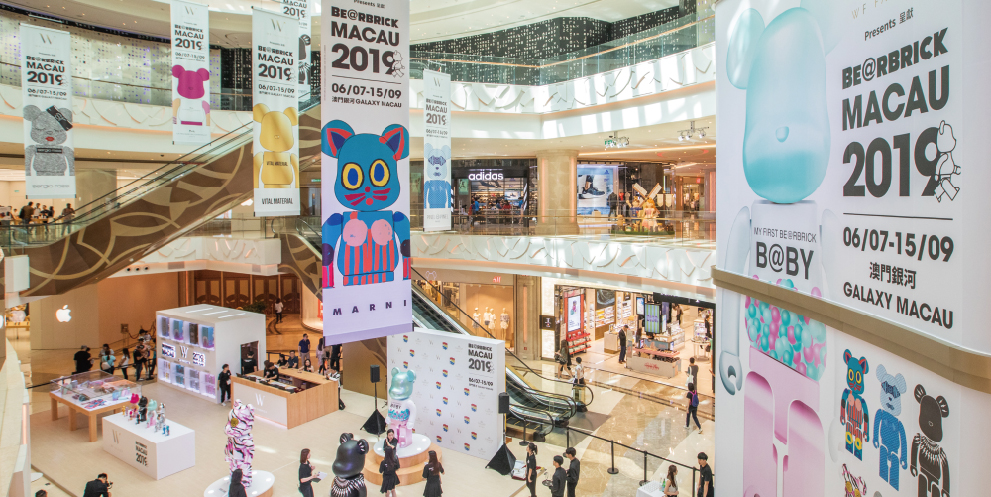 WF Fashion Presents BE@RBRICK MACAU 2019
2019-07-05
WF Fashion Presents BE@RBRICK MACAU 2019
BE@RBRICK MACAU 2019 exhibition presented by renowned fashion icon BE@RBRICK and WF Fashion, a fashion and lifestyle multi-brand store, will last from 6 July to 15 September, 2019 in Galaxy Macau
Since its inception in 2001, BE@RBRICK has risen to global popularity and has forged partnerships with some of the world's most prestigious artists and brands. This year's fashion art exhibition at Galaxy Macau will see participation from WF Fashion and seven leading international fashion brands – La Maison Du Chocolat, MARNI, Neil Barrett, Pinel et Pinel, Roberto Cavalli, Sergio Rossi, and VITAL MATERIAL. Each brand will create art installations featuring 2.1-meter-high 3000% BE@RBRICK that will be displayed in all corners of The Promenade Shops, creating unique photo moments for visitors.  Besides the exhibition, limited edition BE@RBRICK merchandise will also be exclusively available at the pop-up.
Throughout the exhibition period, 100%, 400% and 1000%-sized BE@RBRICK will be available for sale. In addition, the all-time hot collectible item MY_FIRST BE@RBRICK B@BY collection will feature an exclusive "Macau"-imprinted crossover edition from WF Fashion. This special collection will be available for sale. Another standout item will be the BE@RBRICK_AROMA_DIFFUSER from Japanese organic perfume brand VITAL MATERIAL. It will be first launched in a chrome gold version specially created for this exhibition.
"We have been in the fashion retail business working with the world's top international brands for over 10 years, and have never seen art and fashion so highly connected like this before. We are very honored to partner with Galaxy Macau and BE@RBRICK to bring this ultimate fashion and art experience to Macau. Through the opening of the first-in-Macau fashion and lifestyle store WF Fashion and this collaboration with Galaxy Macau, we hope we can join hands to take the retail landscape in Macau to a new level and therefore diversify the tourism industry in Macau." says Mr. Patrick Fan Wing Ting, President of World First Holdings.

In addition to the on-site sales, BE@RBRICK fans will be able to get a chance to receive a BE@RBRICK at Galaxy Macau over the event period. Whether you are a fashionista or BE@RBRICK fan, this world's first BE@RBRICK MACAU 2019 is definitely the summer highlight that you don't want to miss out. For more details, please refer to the event website and related publicity materials.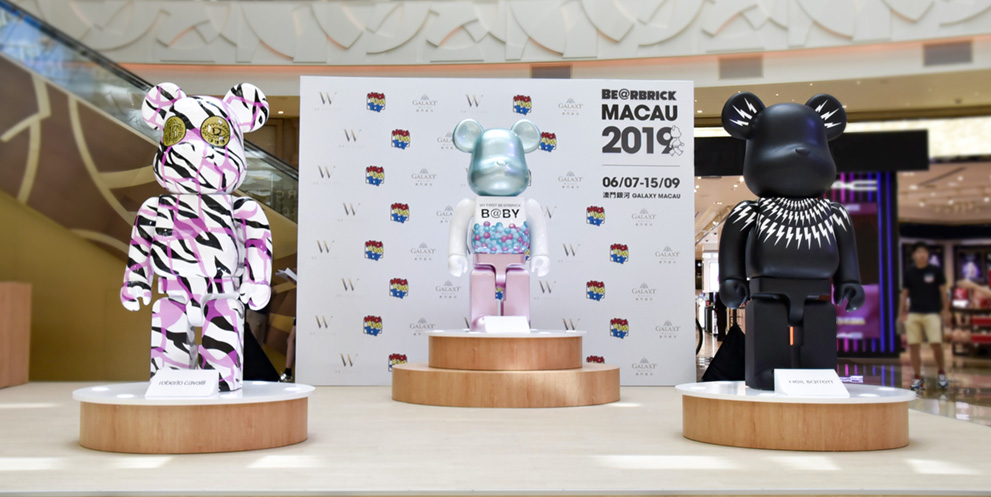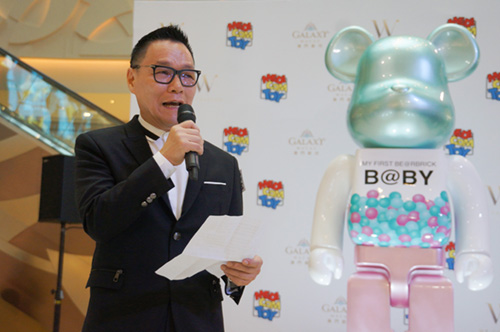 Event name:           BE@RBRICK MACAU 2019
Event period:        6 July to 15 September, 2019
Event place:         Pearl Lobby, The Promenade Shops, Galaxy Macau